Registration for the second "Marketing Done Smart" event is open
South East Marketing Forum are delighted to announce our second webinar event in the 'Marketing Done Smart' series, titled "Social Media Marketing on Zero Budget". Presented by expert panel of Danny O'Brien – Digital Marketing Manager at ICHAS College and Lecturer in Marketing and Enterprise & Innovation at Griffith College; and Dr. Anthony Foley – senior researcher at RIKON and lecturer in marketing at Waterford Institute of Technology.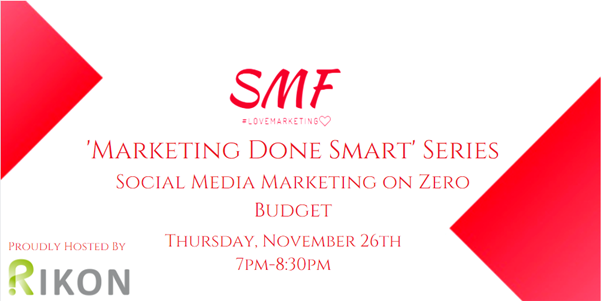 The event will take place on Thursday, November 26th at 7pm and will provide business owners and marketing professionals with the insights on how to conduct cost-effective marketing practices through social media, whilst maximising the return on investment and reaching your desired customer segments. Delivered by a social media marketing expert Danny O'Brien, important factors such as best practice, common mistakes and the importance of planning will also be discussed on the night.
Registration to attend the event is currently open and completely free, but places are limited, so book your place at the webinar now. Registration closes on November 25th at 8pm.