Business Funding, Supports and Grants for Irish SME's
In 2016, an estimated 35,000 new business owners were established in Ireland according to the Global Entrepreneurship Monitor (GEM) 2016 report. Ireland currently has the 6th highest level of entrepreneurship in Europe yet there was an almost 2% closure rate of Irish businesses in 2016. The main reasons cited for closure per the GEM report was lack of financing options and profitability.
Starting to Look for Funding and Supports 
There are currently over 170 different types of government support and funding opportunities available to Irish SME's; depending on your sector and business background.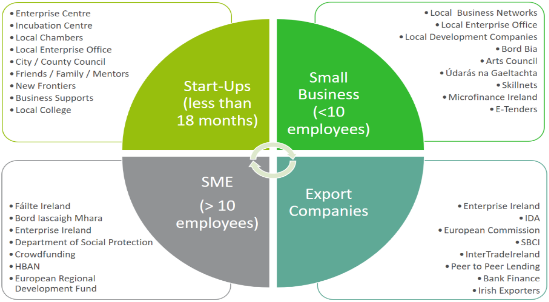 As illustrated in the Figure, there are many funding and support options for your business. In general, it depends upon what business stage you are at (See Funding options for Start-ups, Small Business < 10 employees, SME, Export Companies). Obviously it depends on your sector, but the  general rule of thumb is:  if you are a start-up business or Small business, your first port of call should be your local enterprise office (They will have a very good understanding of the funding and supports landscape) and if you are a company with more than 10 employees or more then you should speak with Enterprise Ireland who a wide package of supports to help accelerate your business.
The Irish Government is currently trying to increase awareness of these supports by launching a business tool that helps companies identify which support can assist them in their business growth. Despite this, many SME's still struggle to access the finance and / or support necessary for their business or may not understand how to access or apply for assistance.  
So at RIKON, we have put together some tips when applying for funding and supports. 
Top Tips for SME's applying for Funding and Supports 
Speak to a funding specialist or business mentor like RIKON about your requirements before you apply. We can help you determine which fund / support may be available for your company and can assist in your application process and work on your approved projects.

 

Don't just focus on the 'traditional' sources of finance for your SME. Look at crowdfunding options or discuss support or investment with your friends and family.

 
Apply for student placement opportunities and to take part as a live case studies with your local school and college. 

 

Be realistic in your expectations and application.

 

Apply for funding / supports before you may need them.

 

Don't apply for same funding / support from different agencies. However, look at the funding ladder and how your business can benefit from the different supports and funding available.

 

What is the short term / long term objective of this support / funding for your business? Do you have the internal resources to manage?

 

Make sure that you get your applications in before the call closes.

 
RIKON collaborate with SME's by identifying suitable funding and support options to develop innovative projects to aid in the company's sustainability and growth through our bespoke process and consultancy services. Whatever your industry or need, we can help find the right funding mechanisms for you. 
: Contact Danielle Whelan in RIKON on 051-834118 or [email protected].